Outdoor Pet Memorial to ´Missy´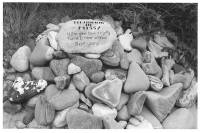 Courtesy of McKenzie Vetertinary Hospital, Victoria BC
What do you notice about this memorial?
(click on the picture for a larger view)

Paying tribute to a beloved animal companion can take many different forms. The benefits of memorializing and creating tributes is tremendous - it brings to the grieving heart a sense of peace, serenity and acceptance. We will never forget, but our grieving hearts will heal.

This memorial was captured by Dr Malcolm Macartney of McKenzie Veterinary Hospital in Victoria, BC. The first time I saw that picture in his office, I asked him what he noticed about it? He was puzzled and not quite sure what I meant - I then pointed out that the rocks were all shaped like a ´heart´ and how meaningful this memorial must have been for the griever. Imagine finding so many heart shaped rocks?

The inscription says it all:

In Honor Of Missy
Who gave love & loyalty
For a lifetime, in two
Short years.

---